---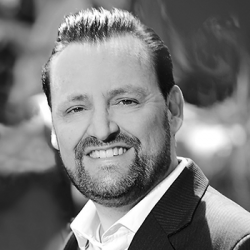 Rowan Gibson
Best Selling Author and Award Winning Innovation Expert and Thought Leader
Rowan Gibson is also an advisor to several Fortune Global 500 companies such as Coca Cola, IBM, P&G, Siemens and Microsoft, where he advises and teaches delegates how to create new markets and transform their businesses using proven innovation tools and techniques.
Rowan Gibson is an Innovation Management leader at The Leadership Network, a leadership and management training provider.
---
The Programme
Day 1 – Tesla Factory Tour
Best-selling author and world-renowned innovation expert, Rowan Gibson, gets straight down to business and introduces you to his very own invention – the Four Lenses of Innovation.™ A powerful business tool to show you how to embed innovation in your company as a self-sustaining capability like supply chain, HR or Lean.
What better place to see this practice in action, than a tour of one of the most innovative and mould-breaking car manufacturers since the invention of the combustion engine.
In just a few years, Tesla was able to shake off 100 years of automotive tradition and convention – and you'll get to see just how differently it does things. Plus take a couple of laps in their new Model S.
Day 2- Discipline
Innovation can happen when you least expect it. But if you want it on tap, you need a disciplined approach. One that sources the best thinking from across the whole business – cultivating ideas and expanding the number of brains involved in the process.
On day-two of this innovation training Rowan, with the help of his Four Lenses of Innovation™ management tool, will show you how to take innovation from mind to market, engraining it in your business model to make it sustainable.
Day 3 – Transformation
Innovation isn't about new tools and techniques. They're just the arms and legs of the process – the heart and mind are the geniuses, entrepreneurs and creative thinkers who work in every department of your organisation.
On the final day of this innovation training, Rowan will show you how to nurture the human side of innovation and demonstrate how your extended team are the real secret to creating a self-sustaining blueprint for innovation that gets results.
Go to The Leadership Network official page and book your place now:
Official page